My love for makeup was born late 2009; I would say around October. Since then, I have watched tens of thousands of makeup tutorials, probably more on everything beauty related. I've discovered, rediscovered, ditched and put up with lots of different makeup "gurus". Just to give you an idea, I probably watch on average 2-3 makeup related videos a day (when I'm busy) and upto 6 when I have some extra time. I watch them on the way to work/school (yay iphones!) when Im at home and trying to relax, or in the morning if I find some extra time!
Point being, I've watched these gurus quite a bit. I love em all, but I'm going to do a pros and cons because when you're watching them theres certain things that you can trust and other things that they're not so great on. That sounds kind of weird, they're all honest, talented sweethearts. I think it'll be clearer when I actually make the list. So here goes!
(Side Note: I originally wanted to do them in a favourite to most favourite order, but in all honesty, I cant pick any over the others, lol! So this is just a random as they come to mind order.)
My Top 10 YouTube Makeup Gurus:
Numero 1: Fafinettex3
Aubrey (that's her real name) was the original makeup guru that I started to follow. She is an amazing makeup artist. Her techniques, her symmetry, her ideas, her funky personality; all of it. It's all awesome. I feel like she's a close friend even though I've never met her because she talks to her audience as a friend. At the same time, the quality of the looks she creates are as good as anyone on YouTube. I love that she's self-taught because that allows for all of us who are just wearing makeup on a day to day basis to relate to her better. I think she's funny, gorgeous and extremely talented. I would probably recommend her for someone just getting started over anyone else for these reasons. The only thing about the looks is that they take some skill. They're not easy to do looks all the time and its not so simple to replicate them. But this obviously isnt her fault. She's extremely detailed about how to do them, you just have to practice a bit to be as good as her!
Numero 2: MakeupbyTiffanyD
Tiffany was probably the second makeup guru I started to follow on YouTube (so I guess this is becoming kind of chronological lol). I really appreciate how down-to-earth Tiffany is. You wouldnt guess from the way that she talks that she's one of the biggest makeup gurus on YouTube. She always looks amazing in her videos (which is important because she's teaching us how to look a certain way). She is very easy to follow along. She has an amazing range of looks to choose from and I feel her honesty coming through her words. There is absolutely NOTHING fake about TiffanyD. The only thing about TiffanyD (and again, this is not something that she can help) is that her looks are often very well suited to her eyeshape, but not necessarily to others. This is something makeup gurus do address, that everyone is different and you have to figure out what works for you, they are just there to inspire. So this is not a reason NOT to watch her. It's just something that someone who is starting out might not realize, and may be helpful to know.
Numero 3: DulceCandy87
Dulce (yes that's her real name) is phenomenal for makeup ideas. I've tried some of her simplest looks and some of her toughest and was able to successfully remake them for me (which is a big deal yes lol). She finds inspiration in the modern and very edgy world of fashion and creates something extremely beautiful out of it. I respect her for being so confident in who she is, she's unique in her taste but extremely inspiring. I love that her looks compliment any eyeshape, and that she uses a variety of easy to difficult techniques. She has some looks she simply did for a night out with three eyeshadows and some blending, and others that took more. What's the same about her tutorials is that they are useful for the audience. The only thing about Dulce is that she takes sponsorships (they all do but she seems to be compensated for a LOT). I have no proof for this affecting her advice, but it seems to stand out a bit more on her channel. Regardless, I would definitely recommend everyone to check her out. She's always smiling in her videos which I appreciate because otherwise you sit there as if in a lecture hall lol.
Numero 4: MakeupGeekTV
I LOVE Marlena. She is probably the sweetest (from a really sugary pot of women!) makeup guru I've watched. She has the nicest way of talking to her audience, with so much respect and concern for their understanding that you cant help but adore her. I love her makeup tutorials, they have amazing range, she uses a lot of products from high end and drug store. She doesnt make such a big distinction between the two as other gurus might. She is very easy to follow and has created looks for different eye colours and different ages. All makeup gurus do mention from time to time that certain colours and such might suit a certain eye shape or colour but Marlena went the whole way and actually did looks for them. She also does some really unique series (the most recent of which is the Soda Pop inspired!) and works with palettes that she becomes aware are extremely popular in her audience. Its a bit rare for makeup gurus to have the eye shadow pallettes that their audiences do sometimes because they have such a vast collection that they probably dont feel the need to buy such things, but for those of us who dont have such a collection, pallettes are a great advantage. Marlena understands and works with this. I would recommend her for sure.
Numero 5: Michelle Phan
I've been watching Michelle for a long time as well. She was probably one of the first I discovered on YouTube. She is definitely more professional than most of the other gurus, but the problem with this is that she's not as relatable. I have no doubt in my mind that Michelle is an awesome girl, but you dont feel like a friend with her, you feel like your listening to a teacher. Which may not bother a lot of people (and honestly most of the time it doesnt bother me either). But its something thats a bit different than most of the other girls I watch and I personally appreciate it that they seem so real. So now that thats out of the way, Michelle is an out-of-this-world makeup guru. She has such artistic skill that it surpasses others by miles. She is also a visual artist and this translates extremely well into the world of makeup. She has done looks inspired by Avatar, moonlight, theme parks, you name it! She does them extremely well, uses a variety of products (even the Coastal Scents 88 pallette!) and displays them in really nice videos. Its hard to believe she edits the videos herself because they are amazing. They seem like a hollywood series. She has a great range for the everyday as well but she does looks that I feel people probably search for on YouTube for real life as well. She has done looks for graduation, for new years, for clubbing, for a romantic night out. Michelle Phan is definitely the epitome of a makeup guru and no-doubt one of the best in our time. Check her out!



Numero 6: JuicyStar07
Blair is a teenage makeup guru. Impressive right? Even more impressive are her tutorials. She has a natural hand for makeup and what looks good. She has really good taste for what eyeshadows look good together, is very easy to follow and she's extremely sweet about the whole thing. I feel like her and her sister (Elle aka AllThatGlitters21) make an effort to remain genuine in their videos and I really appreciate that. She generally does different eyeshadow than other makeup gurus. While essentially everyone goes from light (inner) to dark (outer) I've noticed that Blair will go outside of the box and do similar looks in a different way. She does great haul videos as well. She has really good insight into the makeup that she buys and why its good. I really enjoy watching her videos and I would definitely recommend her as well.
Numero 7: MissChevious
Julia is a great makeup guru, similar to Michelle Phan in many ways. She's a bit older than the rest I think and is generally more professional but its not overbearing in any way. I love that she takes her creativity to the levels of goth, avant garde makeup. While makeup is fun to wear and enhances everyones beauty, it's nice to see it being used as art as well. She mentioned in one of her videos that she was doing a particular darker look because she thinks her audience chooses her for it, and I am definitely one of those subscribers. I love every one of her looks, which I couldnt necessarily say for other makeup gurus. I love that she always starts out bare (rather than with foundation and everything else already on) so that we can see the real transformation from start to finish. In all honesty, girls who look gorgeous without any makeup are extremely rare. Most of us look tired, pale, etc. without some makeup and its nice to see your favourite gurus for both their natural and created looks. I would recommend her for anyone who is feminine enough to want to wear makeup but also loves rock, dark, gothic styles as well.

Numero 8: AllThatGlitters21
Elle (Blair's older sister) is also a great makup guru. I sometimes find a bit uncomfortable that she's as old as she is and likes glitter, but I'm usually punched in the face by my conscience which reminds me that I have some strange likes and dislikes as well and that we're all human and can love and be what makes us happy at any age. Elle has smaller lids which means that she's great for the majority of us who do not have a lot of lid area to do the looks with that many makeup gurus teach. They're usually lucky enough to have beautiful eyes with lots of lid space to great and accentuate their features through makeup with. I, on the other hand, have a hooded lid and not too much lid area so I often feel limited by the looks that many gurus do when I wanna try them myself. Elle however, has a similar face and manages to do gorgeous looks with it. I personally prefer Elle's hauls and reviews more than her makeup tutorials (even though as I mentioned we're physically more similar) but overall she's a great makeup guru to turn to as well. She's very sweet, very likeable, one of those girls you cant imagine ever having a problem with. I like that she shares bits of her life with us as she does her videos (her cat, her sorority, heating issues at her home, etc.) because it makes her a person for us and gives us all hope that we can achieve what she has as well. Check her out if you have glitter in your veins! (haha?)
Numero 9: MeaganHeartsMakeup
I have a bit of a love/hate relationship with Meagan. She does really great haul videos, very nice hair-styling, clothing and other beauty related videos, but her makeup tutorials are average (sometimes I feel like I could do better) and she's way too young. I know that Blair is 17 and thats fairly young but its not an inappropriate age to be doing makeup at. A 14 year-old however, it makes me cringe a bit. I feel bad for feeling this way because she's just a kid enjoying something she loves to do, but I cant help but disagree with her wearing and collecting as much makeup as she does. I cant help it, and I also cant help watching her channel. She is also a very genuinely sweet girl(/kid) who has a great taste in clothing and makeup, still working through her skills, but great advice overall. She definitely also has a knack for styling clothing and accessories together in a way that's tasteful for everyone I think. Check her out!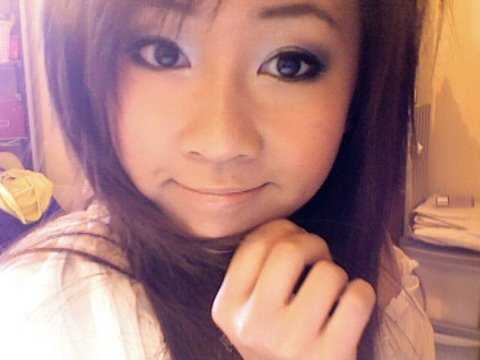 Numero 10: BubzBeauty
Bubz is the most adorable 20 something year old I think in existence. She's extremely cute, very sweet, and a great makeup guru. She's probably the most recent discovery of mine on YouTube and I really do love her videos. I actually like that a lot of her looks arent eyeshadow based. Which is funny because thats what I went to YouTube to learn, but I think she shows us all how to look great without layering on lots of eyeshadow necessarily. She has great eyeliner tricks and hairstyles to spice up the way you look without putting on too much extra makeup. She does disappear a lot though! I know she has a really cute clothing line which took off so I can understand why and I love that's she's still the same Bubz despite it, but I miss her :(! Anyways, lol, check her out she's a great makeup guru as well.
So that's my list, I know I ramble, I cant help it. Support all of these great girls please!
I also wanted to do some Honourable Mentions because I do watch other YouTube Makeup Gurus who are also amazing but didnt make my top 10 list:
Lollipop26
Temptalia
Magicgrl111
MacBarbie07
MakeupbyRenRen
XTeener
Check these girls out as well! I'm huge fans of them as well!