My personal makeup collection is small, but having fought some serious urges to buy makeup I really didnt need right now in the past month or so, I've decided to go on a personal Project 5 Pan. I'm going to keep the name "Pan" even though its not pans I'm trying to get to the bottom of.
Originally I believe it was lollipop26 who started this project for herself and its spurred in the Youtube community for makeup junkies ever since. I think its a great way to make sure your getting your moneys worth out of the products your buying. Especially since to be hygenic so many of them dont have a very long expiry date.
A little while back I was hit with the realization that lip glosses and lipsticks arent supposed to be kept really for more than three months. Personally, this expiry date is a bit rash but I get the point behind it. Dont keep your lipsticks forever!
So my personal version of Project 10 Pan is going to be Project 5 Pan and it's going to be for lip products. Although I dont have a ton I'm trying to get rid of I dont want to buy anymore (and hopefully be done this project by the holidays so I can haul the lip-product giftsets then) until I've finished a few.
So I dont know if everyones done this but I saw Lisasz09 pick the products she wanted to finish beforehand. In addition to that I've also decided that I'm giving two products away to my mum. There's no way these two products would get finished by me and the weird idea that I'd keep them for 10 years and use them someday is ridiculous now that I know how long your supposed to have them. So two lip glosses (a deep cherry red by Avon which is nameless and a dark burgundy plum also by Avon called Berry Cool) are going back to her. Also, I took a lipstick of hers called "Gentlemen prefer pink" which is a Revlon lipstick that I'm going to return so that she can wear it and finish it herself. So right off the bat, I have three less products lying around and going to waste. I feel better already:).
Onto my personal list of what I want to finish. I have 3 Avon lipglosses in tickled pink, a baby pink which is nameless and sweet maple. All pretty colours, two of which have quite a bit left, the baby pink probably should be the easiest to get rid of. Then I also have a lipstick in sunkissed ginger which I think may already be expired from the way it applies. Ew?! I'm not sure. I might be biased so I'm going to try and apply it and if its time to say goodnight I'll count it as done to balance out how much product I have left to go in the other glosses. The last product I'm going to try and finish is actually one that I might not repurchase to my surprise.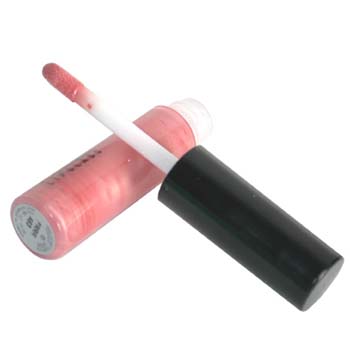 The last product I'm going to try and finish is my MAC lipglass in Prrr. Its a great colour, I really like the look of it, but I dont like the feel or stickyness it comes with so it's time for me to get some good use out of it and finish it up for a Back to MAC trip.
I'm excited about this. I tend to get excited for anything makeup really lol. But I'm glad once again about my personal ability to control my spending (I know, I know, I say it like a broken record) because I'm not wasting my money like I feel some makeup gurus really have.
I want to be done this by mid-November. So I have two months, which is ample time in my opinion to use this. I just have to stop using my Revlon one which I feel is the perfect topcoat to any lipstick lol.
Wish me luck!