So I was going over my list of my favourite makeup gurus and I realized that the list is fair game when it comes to makeup tutorials, but its different for hauls and reviews.
I thought I'd do a quick list of my favourite YouTube product reviewers:
1. Lollipop26
She is definately the best makeup guru for reviews. Laura seems extremely sweet but she is very honest about all her reviews. There is no being nice to any brand or product for the sake of anything else but quality and performance. I respect her SO much for that. She tends to do more "products I regret buying" and "dont believe the hype" videos which may seem like bashing to some, but not to me. I appreciate videos where people talk about the products that dont work for them because you get to know WHY some products work/dont work for people. Everyone has different skin and every product doesnt turn out the same or look the same on everyone. Its nice to know why it might not work as well as why it may work. Often when its a good product you only hear about how amazingly life-changing it is. I want more details though, lol! Laura gives the full picture. She also gives the full picture when she raves about products, says exactly why they work and what they do. Love, love, loveee!
2. JuicyStar07
Blair also does great reviews. She is very thorough in trying them out; she's mentioned many times that she waited to use products for at least a week, sometimes more, before she did a video on what she thought. I really appreciate that because as a makeup guru, these girls have SO much makeup and they really dont need to put an extreme amount of effort into their reviews but Blair does. I feel like I can trust her judgment of products because of this. Also, and this is for anyone with similar skin, her reviews are perfect for me because we have a similar skin type. She has oily/combination, acne-prone skin and so do I. While I know that this isnt a reason for everyone to watch her reviews, its a personal one thats REALLY important for me. I also understand that despite having similar skin types products may still react differently on our skin but I can at least rely on her advice better than from people who have dry or normal skin. Love, love, loveee Blair and her sincerity!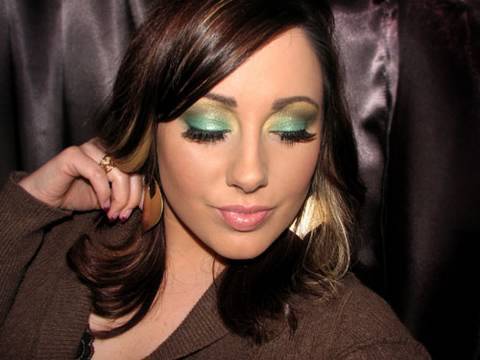 3. MakeupGeekTV
Many of the reasons Marlena is a good reviewer are the same reasons why she's a great makeup guru. She's sweet yet honest about it. There's no bashing on her channel but she, as with all things, is extremely concerned with being informative for her audience so that they can get the most from every video. You get the sense that she genuinely cares about people who watch her videos and makes a conscious effort not to cheat them out of the real honest truth with any product. She's also very unbiased towards products in the sense that she tries all things. She wont not try Victoria Secret products because they are not generally a makeup line, or try a new makeup brand that no ones heard of. She tries and reviews all sorts of products from all sorts of companies and gives great reviews. She's not afraid to say the truth about the quality of products and how much she likes something which makes me trust what she says!
4. Temptalia
Christine has the most informative website I have yet seen from a makeup guru. Its a lot more professional than the other ones and it seems like more of a business than a personal blog. She tends to say "we" a lot when she's talking about stuff so it seems like she has a team of people who support and help her. So she's a great reviewer because of all the information she has. I feel like I'm getting extremely intelligent, detailed facts as well as opinions about products. She has as much information as there is possibly out there on products, plus she has everything thats coming up, everything that came out. Honestly, her website is amazing. If not her channel, I would say her website is the best one to check out for beauty/makeup related information. She's also very sweet, as all of them are, but very to the point which I appreciate as well.
5. Lisasz09
I recently came across Lisa and I havent really noticed her makeup tutorials (I'm not sure if she even does them!) but she does great reviews. That's basically what I watch from her. She's very detailed, very honest. I like her for the same reason as I mentioned with others; she tries the products thoroughly before she gives a review and is very detailed and informative about the products when she does do a review. I also like with her that she is exposed to very different brands than you typically hear about so if your looking for something and your not satisfied with all the "pop" brands she gives lots of great advice on alternatives.
So I really appreciate all of these ladies for their reviews because they allow me to make educated choices in the beauty products I purchase. We're not all makeup gurus or on YouTube getting lots of free products so I like that I can really find out what the pros and cons of different brands, products, beauty-related items are before I go spend money on them.
Thanks to all of them!